« Back to news list
GCSD Earns Third Consecutive 'Excellent' Report Card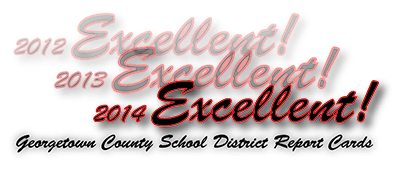 Report Card shows GCSD among state's best
The release of the 2014 State Report Card has once again proven that Georgetown County School District is one of the highest achieving districts in the state.
GCSD is one of only seven of the state's 83 districts to earn an "Excellent" Absolute Rating and an "Excellent" Growth Rating, and GCSD is the only district in South Carolina to register an improved Growth Rating in each of the past three years.
Also, this is the third consecutive "Excellent" Absolute Rating for GCSD.
Superintendent Dr. Randy Dozier said the great report card is a reason for many people to celebrate.
"Achieving Excellent/Excellent is a tremendous accomplishment by Georgetown County School District which only happened because of the hard work by many groups," said Dozier. "Students, parents, teachers, support staff, administrators, our school board, PTA's, SIC's, booster clubs, businesses, and community groups all played a role in making this happen. This is the result that can happen when many people work together for a common goal."
Also receiving "Excellent" Absolute ratings were Carvers Bay High School, Georgetown High School, Waccamaw High School, Waccamaw Middle School, Waccamaw Intermediate School, and Waccamaw Elementary School. Carvers Bay High, Georgetown High, Waccamaw High, Waccamaw Intermediate, and Waccamaw Elementary also received "Excellent" Growth ratings.
"Having experienced growth from 2006 through this year as we have migrated from Palmetto Achievement Challenge Test to Palmetto Assessment of State Standards, GCSD emerged as a district where hard work and professional development have worked hand-in-hand to achieve this goal," said Patti Hammel, executive director for Student Performance and Federal Programs.
Hammel credited Professional Learning Teams as playing a major role in the district's success.
"One of the greatest tools GCSD has utilized to bring our achievement to a high level has been the establishment of Professional Learning Teams," said Hammel. "Teams of teachers continue to work together to share knowledge and expertise in curriculum and strategies that they use to teach the content. They also peruse assessments together to see how effective the strategies have been in meeting students' needs.
"The power of more than one professional working together is profound. Our students have been presented the most engaging strategies, and our student achievement has grown markedly. We are so very proud of our administrators, teachers, students, and parents for doing such wonderful work."
Dozier emphasized the Excellent/Excellent report card grades could not have been earned without a group effort.
"This achievement speaks as to how Georgetown County values the importance of a good education," said Dozier. "This excellent report card was achieved by the hard work and extra efforts of a larger team of a variety of people. This grade reflects how the district did as a whole, not just one school or area.
"I want to thank everyone personally who contributed to this success and we look forward to future successes and continued improvements."